The Rarest and Most Valuable Super Nintendo (SNES) Games
The Rarest and Most Valuable Super Nintendo (SNES) Games

Next time you hit the flea market, or a garage sale pay attention for hidden treasures. The Super Nintendo is the target of this expedition and there are plenty of highly-collectible games this time around. Surprisingly, many of the the most valuable SNES games aren't actually rare, but are instead driven by popularity and the hunt for elusive boxed SNES games in good condition.
Check the garage, the closet and the basement, some games you owned as a kid might have appreciated in value since you last played that cart. In this article we will round up the rarest and most valuable games for a given console or handheld so you'll know what to look for whether you are buying or selling. Below you will see two prices beside each title. The first is the average daily selling price, which is typically the going rate for the cartridge by itself. The second price is the highest daily selling price of recent history. The list is ordered by the balance of the two prices. Note that some of these games are not rare in the sense that there are not many available, but rare relative to demand, which makes the games expensive.
The Expensive Super Famicom Imports
It's rather difficult to find solid rarity and value information on Super Famicom titles unless you have a Japanese connection, but here are three of the most desirable Super Famicom releases from the research we did. If you have more to add, please use the comments section below.
Kunio-kun no Dodge Ball Zenin Shuugou Tournament
Special Gold Cartridge: $1,000 – $1,200
Rarity =
There were a number of Super Famicom games that were released as limited edition gold carts for tournaments in Japan, one of the most valuable being the Kunio-kun no Dodge Ball Zenin Shuugou Tournament Special. It was given away as a prize to winners of Technos Japan's Dodgeball Tournaments, which they used to host several times during 1993.
Check for Kunio-kun no Dodge Ball Zenin Shuugou Tournament
Special Gold on eBay
Fire Emblem Thracia 776 Box Set: $150 – $270
Rarity =
Before the Fire Emblem series came to the US on the GBA and Gamecube, it was a very popular strategy RPG series in Japan. To satisfy the many fans of the series an feature-packed box set was released that included maps, posters, toys, and other cool stuff. Check out this forum thread to see picutres of the complete Box set.
Check for Fire Emblem Thracia 775 Box Set on eBay
Rendering Ranger R2: $90 – $200
Rarity =
From the makers of the Turrican series, this run-and-gun shooter is one of the most desirable standard-issue Super Famicom games. It is hard enough to find a bare cartridge of this game, but it will more the double the value if you have a complete boxed copy.
Check for Rendering Ranger R2 on eBay
Limited Edition Collectables
Donkey Kong Country Competition Cartidge: $250 – $728
Rarity =
Donkey Kong Country Competiton cartidges were used by Blockbuster Video in tournaments held within the store, and never receieved a true commercial release. (The cartridge is rumored to have a print run of 2,500 copies) As typical with most video rental stores, a few leftover carts were tossed into the bargain bins for customers to purchase. Nintendo Power also offered some extra carts in their catalog.
See Latest Donkey Kong Country Competition Cartridge on eBay
Starfox: Super Weekend Cartridge: $218 – $282
Rarity =
Much like the DKC Competiton cartidges, this Star Fox cart was used by Blockbuster for game tournaments and extra carts were sold off by Blockbuster and Nintendo Power. An article included in the original packaging suggests that the Starfox Weekend cart actually had a smaller production number (around 2,000) than the DKC cart, but for some reason the Star Fox cart has showed up on auction sites a bit more often and has fetched a lower price. It has been listed on eBay a number of times and not sold for asking prices of $255 and $285
See Latest Star Fox Super Weekend Cartridge on eBay
Exertainment Mountain Bike Rally/Speed Racer Combo: $150 – $200
Rarity =
Ok before somebody gets excited about the cover art to the left, that is for the more common version that only has the Mountain Bike Rally Game. The rare version of this game actually has the Speed Racer game on it as well. For use with the LifeFitness Bike Unit. One of the rarest games for the system, as it may have not seen full or any retail distribution. This 2 in 1 most likely never made it to any stores, and most copies that have been found have been from NOA's warehouse itself!
Treasured Standard USA Releases
Earthbound: $90 – $334
Rarity =
Another game that is not hard to find, but is very popular. The game is famous for its cult like following of fans. It is a non-traditional RPG taking place in suburbia and weapons are every day household items. Still regarded as one of the most enjoyable RPGs to this day. Prices have increased quite a bit for Earthbound over the last three years (2007 quotes were $66 – $181)
Check for Earthbound on eBay
Check for Earthbound on Amazon
Ogre Battle The March of the Black Queen: $57 – $149
Rarity =
Enix, the publishers of the game, only made 25,000 copies of the game for sale in the US. The game is very hard to find because of this limited release. The Ogre Battle is a very good strategy RPG game too, so many RPG fans want to buy it just to get a chance to enjoy a great game.
Check for Ogre Battle The March of the Black Queen on eBay
Check for Ogre Battle The March of the Black Queen on Amazon
Ninja Gaiden Trilogy: $65 – $135
Rarity =
All three NES Ninja Gaiden games combined onto one cartridge with some graphical improvements and passwords added, but gamers didn't think this was enough to warrant a purchase. The game didn't sell well on initial release. Collector's want the game now because it is hard to find and they get three games for the price of one, even if that price is fairly steep.
Check for Ninja Gaiden Trilogy on eBay
Check for Ninja Gaiden Trilogy on Amazon
Castlevania Dracula X: $58 – $125
Rarity =
Castlevania Dracula X is the final Castlevania game released on the SNES and like many games in a series the later versions don't sell as well. However, the hardcore following of the series and SNES collectors keep the price of this title rather high.
Check for Castlevania Dracula X on eBay
Check for Castlevania Dracula X on Amazon
EVO the Search for Eden: $60 – $115
Rarity =
The game is not really hard to find, but is very popular and therefore expensive. It is a unique platforming/role-playing game and is very highly regarded by gamers which helps increase its popularity.
Check for EVO the Search for Eden on eBay
Check for EVO the Search for Eden on Amazon
Harvest Moon: $57 – $95
Rarity =
Harvest Moon was released the same year the Nintendo 64 was launched so many gamers had already moved onto Nintendo's new console and didn't bother buying this game. The Harvest Moon series also has a cult following of gamers who want to farm and try to get a girl to like them. This is the first in the Harvest Moon series so many of these fans want to buy the game that started it all.
Check for Harvest Moon on eBay
Check for Harvest Moon on Amazon
Chrono Trigger: $47 – $1,217
Rarity =
The game is not rare, but is rated as one of the best games of all time on many gamers' lists. It was created by an all-star cast of developers and stands up to the test of time in terms of story and game play. Typically, a complete copy of Chrono Trigger goes for about $150 to $200, however a sealed copy exceeded $1,200. It is worth mentioning that loose copies have dropped a few dollars over the last few years — possibly because of the DS re-release.
Check for Chrono Trigger on eBay
Check for Chrono Trigger on Amazon
Mega Man X3: $55 – $194
Rarity =
Mega Man X3 was one of two games to use a specialized chip called Cx4 that allowed for some 3D graphics in games (Mega Man X2 being the other title). Because of this chip it is an oddity and has some of the best graphics on the SNES. It is also hard to find. These two factors combine to make it one of the more expensive Super Nintendo games.
Check for Mega Man X3 on eBay
Check for Mega Man X3 on Amazon
Aero Fighters – $50 – $120
Rarity =
The game was released as an arcade game in 1992 and then ported to the SNES two years later. When it was brought over they made very limited quantities so it is one of the hardest games to find on the system. The price isn't as high as other games but the chances of seeing this game are much lower. .
Check for Aero Fighters on eBay
Check for Aero Fighters on Amazon
Super Mario RPG: $44 – $157
Rarity =
An RPG developed by Squaresoft featuring Mario and the Mushroom Kingdom? How is this not a recipe for collectability? Again, this game is far from rare, but collectors (especially of boxed games) keeps the value of this gem flying high.
Check for Super Mario RPG on eBay
Check for Super Mario RPG on Amazon
Valuable PAL Releases
Castlevania – Vampires Kiss: $250
Starwing Super Weekend Competition Cartridge: $200
Harvest Moon: $200
The Firemen: $100
Secret Of Mana: $100
Secret Of Evermore: $80
The Rarest Games At Affordable Prices
Each of these games have a rarity rating of 7 or 8, but routinely sell for less than $30. If you are an SNES collector and see a boxed or sealed copy of any of these on eBay for a low price, you might want to snatch them up — you may never see them again.
Fun N Games: $29 – $39
Super Turrican 2: $21-$52
Chavez II: $20 – $42
Shien's Revenge: $18 – $41
Zero: The Kamikazee Squirrel: $18 – $38
Ardy Lightfoot: $19 – $28
Oscar: $15 – $35
The Ren & Stimpy Show: Fire Dogs: $13 – $36
Hurricanes: $10 – $20
Pieces: $11 – $15
Incantation: $15 – $25
Bebe's Kids: $15 – $17
Casper: $12 – $18
The Adventures of Kid Kleetz: $4 – $15
No Escape: $5 – $6
The Miracle Piano Teaching System: $16 – $25
Additional SNES Games of Value
These games aren't especially rare, but are quite collectable regardless resulting in a high resale value, especially for complete, boxes copies.
Super 3D Noah's Ark: $45 – $100
Lufia and the Fortress of Doom: $27 – $88
Lufia and The Rise of Sinistrals: $38 – $50
Secret of Mana: $37 – $101
Metal Marines: $36 – $79
Uncharted Waters: New Horizons: $35 – $137
Final Fantasy III: $32 – $156
The Ren and Stimpy Show Buckeroos: $30 – $75
Dragon View: $27 – $139
Mega Man 7: $39 – $78
Boogerman A Pick and Flick Adventure: $35 – $60
Metal Warriors: $39 – $52
Final Fight 3: $31 – $40
Super Double Dragon : $23 – $135 [sealed]
Breath of Fire II: $25 – $95
Kirby Super Star: $29 – $46
Kirby's Dream Land 3: $28 – $38
Breath of Fire : $20-$52
Credits: Rarity scores are courtesy of my friends at DigitalPress.
Published: February 10th, 2008 at 6:24pm by racketboy
Updated: March 7th, 2011 at 11:40am
273 Comments
Daniel Primed says:
February 10, 2008 at 7:07 pm
Does anyone know if Ninja Gaiden Trilogy is NTSC only? Because I haven't found any indications to indicate if it ever saw a PAL release.
There are a few SNES games that I missed out on the first time round which either never came to Australia or are way too expensive. Last I had a fully boxed version of Harvest Moon.
jon says:
February 10, 2008 at 10:46 pm
i had bought ogre battle for like $15 when i was like 13, i don't know what happened to it, i loved that friggin game.
WasherDryerCombo says:
February 11, 2008 at 7:05 am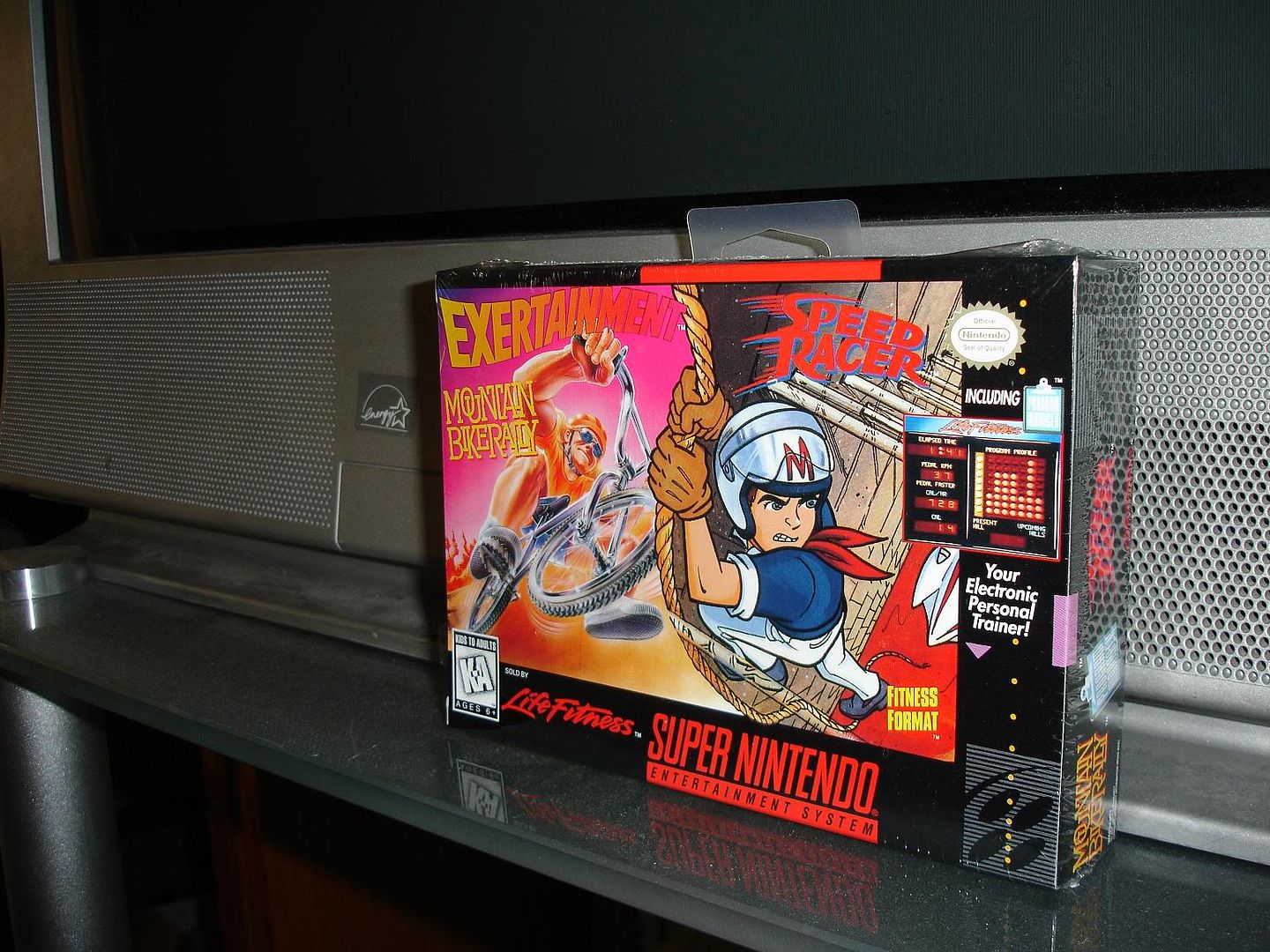 Here's a picture of the actual mountain Bike Rally/Speed Racer box. Feel free to use it if you like.
racketboy says:
February 11, 2008 at 7:09 am
Thanks! That's incredible that you have a sealed copy
radixor says:
February 11, 2008 at 11:40 am
Lufia and the Rise of the Sinistrals — one of the BEST games I've ever played. I still play it every now and then.
Pec says:
February 11, 2008 at 1:06 pm
I sold a copy of Ergheiz and Einhander both rare Squaresoft Playstation games for $240 on Ebay about a year ago.
Damn those were good games… I miss them.
maximus_clean says:
February 11, 2008 at 1:27 pm
I have all these NTSC games, i have half of them factory sealed truly fun itmes to own.
victori says:
February 11, 2008 at 1:41 pm
secret of mana did not hit the list? I would of expected that game to be a bit rare?
Adam says:
February 11, 2008 at 1:42 pm
I only found out there was a Japan-only dodge ball game released for the SNES a short while ago, and now I see it's also the most valuable SNES game there is (at least for its gold cartridge edition.) I don't know about the SNES version but I'm a huge, huge fan of Super Dodge Ball for the NES (just check my website for proof). Nice list!
jjgames says:
February 11, 2008 at 2:46 pm
How do some of you get so many sealed copies of these games? Did you buy them back when they came out and never open them? Buying new, sealed SNES games on this list would cost a small fortune.
Ryan says:
February 11, 2008 at 3:03 pm
Does anyone know if Final Fantasy 2 American version or Final Fantasy Mystic Quest are worth anything like some of the ones listed above
John says:
February 11, 2008 at 6:06 pm
super mario RPG is the best game for SNES
Chrono says:
February 11, 2008 at 8:42 pm
Chrono Trigger FTW!!!!!!
TanookiTravis says:
February 11, 2008 at 8:47 pm
I totally missed out on some great games that generation. I for some reason decided to go Sega Genesis this gen rather than the SNES. I had some awesome times but look at all I missed. Good luck getting them now. I'm not paying $200+ for those games now.
Thomas Jenkins says:
February 11, 2008 at 9:01 pm
I got a great job making video game software by posting my resume at http://www.computerjobs.com/userlogin.aspx?_panel=1&mkt=t6
WasherDryerCombo says:
February 11, 2008 at 9:44 pm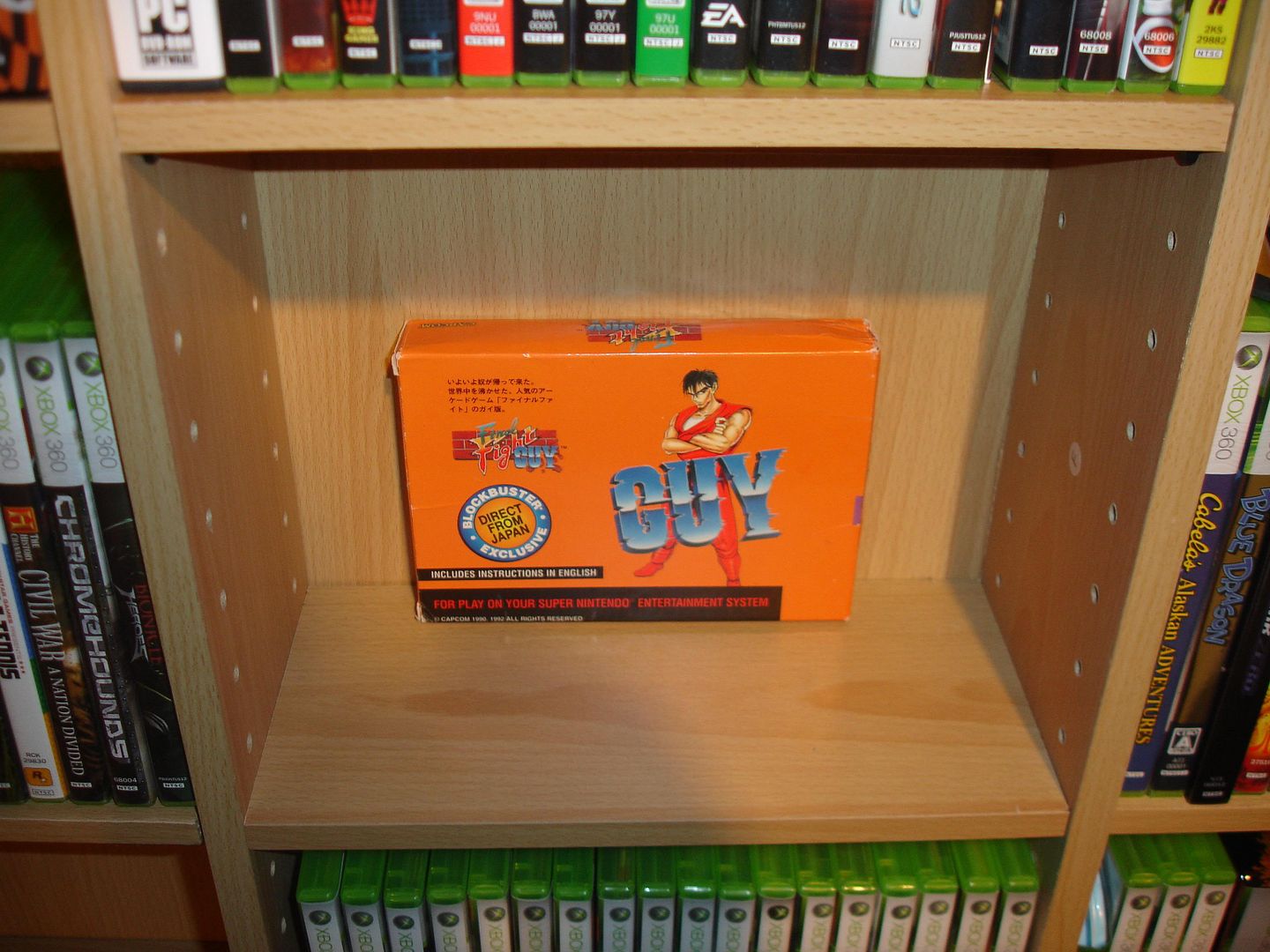 You should also include Final Fight Guy to your list. The game was only available at Blockbuster for rent making practically impossible to fine a copy of the game let alone a box in good condition.
It's about a 150 dollar game.
Dave Greiman says:
February 11, 2008 at 11:37 pm
Oh yeah! Nice list! And naturally I own none of these… hehe
DK428 says:
February 12, 2008 at 12:10 am
I sold my copy of Super Mario RPG to one of my friends a long time ago…i sooo regret doing that, but i think i can still get it back from him! I hope…
bainick says:
February 12, 2008 at 5:31 am
I know its not a US release, but I dont see Terranigma there, I love my copy
mike says:
February 12, 2008 at 5:35 am
Cool, when is the last time I played anyone of them lol
http://www.americanidolpixelmania.com
Robert says:
February 13, 2008 at 12:07 pm
You forgot my favorite Atari 2600 game…..Custers Revenge!
Gamerforlife says:
February 13, 2008 at 8:23 pm
I love these lists, though it's always funny to see games that aren't that great become so highly valued. Most people agree that the NES versions of Ninja Gaiden are better than Ninja Gaiden Trilogy ports for example.
And those "special" versions of Starfox and Donkey Kong Country? Why not just buy the FULL versions for less? Collecting is a strange hobby sometimes.
I am loving these lists though as I've said, and it's always great to see games on there that DESERVE to be highly sought after, like Mega Man X3 and Super Mario RPG.
poit says:
February 15, 2008 at 9:40 pm
i dont know if anyone put this down (cus i dont wanna read. but FF3 (SNES American) is worth a butt load. last one i saw in a store w/o box was about $75
Thaiboxerguy says:
February 21, 2008 at 4:53 pm
I LOVE Earthbound. I still have my original copy…Hell, I still play it.
King edmond says:
February 21, 2008 at 8:25 pm
One game that is very rare is combetribes. A very cool game.
Adam Cooley says:
February 23, 2008 at 6:54 pm
Some guy said that "FF3 is worth a buttload" above. I see it constantly on ebay for $20-30. That's not a "buttload". It also went down in price after the GBA FF6 came out.
I was shocked while reading this, I have nearly every game you mentioned except Harvey Moon, Earthbound, Ninja Gaiden Trilogy, and the imports. What's even more shocking is that I got all of them for $6 or less at local pawn shops. And try this: I have THREE copies of Chrono Trigger. I'm not bragging, but I am trying to illustrate a point: I live in a town of 40,000 people, and these were all relatively .. not EASY, but not IMPOSSIBLE to find just by going to thrift stores/pawn shops for years. So, my advice to anyone who is reading this, this may seem obvious, but don't look to ebay or amazon for your gaming needs… explore your town.
I was surprised that Dracula X was worth that much. I remember picking it up at a pawn shop and not liking it, because.. well, its' pretty bad.. luckily, I got Castlevania IV about a week later at the same place for $6.
Allan says:
March 5, 2008 at 2:34 am
I have a 720 SNES NTSC game collection, 667 have manuals, maps, posters, etc… 40 are in boxes, 2 sealed. Also accessories like complete Miracle Piano System and stand, Batter-Up boxed, Lethal Enforcer with pistol boxed, Super Scope 6 with rifle boxed, controllers, etc… Trying to get the word out that I will be auctioning the entire collection on Ebay at the end of March, no later than the first week in April 2008. I've only seen one other auction similar to this and it sold for $15.5k on Ebay March of 2007. I do not want to part with it but just purchased a dream fishing camp on Pearl River and wife say's something has to go to pay for it!!! Spread the word!!!
SNESER says:
March 21, 2008 at 12:16 pm
Street Fighter Alpha is missing here. It had special hardware built into the cartridge.
PoorRichDude says:
April 20, 2008 at 12:48 am
Perhaps poit was referring to [F]inal [F]ight 3? Released in the SNES' twilight, I have yet to locate a copy.
I did pick up a copy of Earthbound at a local mom-and-pop game store for about $40 though, so…yay
\ ^o^ /
BigBoss says:
April 25, 2008 at 4:45 pm
Oh man, I didn't thought Ninja Gaiden Trilogy was rare, I saw one selling in a store for 2$…it was used but still…
Theresa says:
June 9, 2008 at 4:27 am
okay well i've had the super nintendo like all my life
and it still works!! i found it in my
basement but i cuddnt seem to find the ONE game
i alwayz played and loved it.. && i cnt member
the name of it
it starts out as your this boy with blue hair
and u like swing around on branches
and then everytime u fall on the prikly things
or get hit u slowly turn into a monkey
anyone know wat im talkin bout?
Halo2zero says:
June 10, 2008 at 10:56 pm
Boy with blue hair? –> Breath of Fire II?
Chris says:
June 12, 2008 at 7:33 am
Hey i have a variety of unboxed SNES games, i know that there isnt much demand for unboxed Snes games these days, i need a site that i can look up the worth of some of my games, for example mystic quest, i know for a fact that this game is rare…..any suggestions??? thanks
Joe says:
July 8, 2008 at 3:35 am
The game with the blue haired guy is called congo's capers and its fairly cheap normally, i dont know if its worth anything though.
Just Curious says:
July 15, 2008 at 3:09 pm
I have over 80 games for the super nintendo plus the gun.
I dont have any sporting games other then a couple martial arts games.
Can any one give me a clue as to how much i can get for them all in great shape?
I also have the game genie and books. some of the games still have the original box they came in.
I have all the mega men games.
And of course i have the supernintendo game system
racketboy says:
July 15, 2008 at 11:51 pm
It really depends on the games. I would recommend asking in the forum to get a good idea.
EGGZ says:
July 16, 2008 at 12:31 pm
The final fantasy 1&2 combo in it's original box is alot rarer and deserves top spot on the list of famicom imports.
EGGZ says:
July 16, 2008 at 12:33 pm
Dude ie:(Just curious) I have like over freaken 500 snes titles and alot of the ones on this list. That is what true collecting is about
racketboy says:
July 16, 2008 at 7:42 pm
Thanks for the tip — I'll look into those.
Do you happen to have a dollar value for the FF combo?
EGGZ says:
July 18, 2008 at 12:30 pm
I have a friend who ownes one and he said he won't sell it for less than $1000 .Personaly I only heard about it from reading the now defunct Tips&Tricks colectors closet. Not sure what issue but it is defenitly 2007 so you can check the back issues
Daniel says:
July 19, 2008 at 2:41 am
I got a great deal on a box full of super nintendo games this week for $25! It had 17 games, 2 controllers and a 5 player hook up controller. The best game in the bunch was Orge Battle the march of the black queen! some of the other games of value were super mario kart, super metriod, zombies ate my neighbors, zelda link to the past, etc. I basically got Orge Battle the march of the black queen for $1.25! lol i love it. my pawn shop people around town are smart and they have different prices for games depending on their value. i got this deal from a college student who was moving back home.
EGGZ says:
July 29, 2008 at 12:30 pm
Yo whats everyones rarest snes game. Mine is the final fantasy 1&2 famicom combo.(Just got it off my buddie)& is anyone willin to sell it to me??????
daniel says:
July 31, 2008 at 2:06 am
ogre battle and selling on ebay right now
http://cgi.ebay.com/Ogre-Battle-March-of-Black-Queen-Very-Rare-SNES-game_W0QQitemZ110274995790QQihZ001QQcategoryZ139973QQssPageNameZWDVWQQrdZ1QQcmdZViewItem
EGGZ says:
July 31, 2008 at 12:01 pm
Daniel Sorry buddie I live in Europe
david says:
August 5, 2008 at 7:43 pm
Other favorite games of mine that I have are: Secret of Evermore, Secret of Mana (one of the greatest games of all time behind the FFs and CT), and of course, Mike Tyson's Punchout
felix says:
August 7, 2008 at 6:20 pm
my rarest game is the pal-version of the StarFox Super Weekend Edition, called Starwing Competition Edition, in german (i think there exist pal-versions in german, french and english). i got it a while ago from a friend of mine for free (i even told him about its value before!).
one copy is on ebay right now:
http://cgi.ebay.de/STARWING-COMPETITION-NEW-SNES-A-2-STARFOX-SUPER-WEEKEND_W0QQitemZ250277367235QQihZ015QQcategoryZ27231QQssPageNameZWDVWQQrdZ1QQcmdZViewItem
bob says:
August 12, 2008 at 12:36 am
i got every snes game ever made
jim says:
August 28, 2008 at 2:00 am
yu yu hakusho dragon ball z and gundam imports aren't even on there
Daniel says:
August 31, 2008 at 9:09 am
Bought Mario RPG from the flea market today for $3! I go to the flea market every week and usually find 1 great game for cheap.
Ziggy587 says:
September 2, 2008 at 4:19 pm
Glad to see I have some of games on that list. EVO is one of my favorite SNES games. Mario RPG is a must have, such a great game. I'm also a huge fan of the Castlevania series, so Dracula X is in my collection.
I always wanted to get Mega Man X2 and X3, but never felt like coughing up the dough. I really should get them soon though as SNES is my most cherished old school console.
Brandon says:
September 21, 2008 at 11:22 am
Earthbound was such a hard game, I don't think I would have ever finished it without the guide. I guess that's why they packaged the game with it! What was great about the game, is that once you beat the final boss, you had to go around returning items to people you met along the way. Only when you went back to your "home" did you finally see the true ending! Great game! (And I still own it by the way ;P)
Big ups to Chrono Trigger as well, absolutely classic.
Ryan says:
September 30, 2008 at 1:30 am
hi can some one help me i use to own a game called TIME but now i cant find it and i look on the internt to see if i can buy it but that game never comes up so can some 1 help me i dont know what im doing wrong it might be he worng name but yer idk please email me the name ty or what ever
Ziggy says:
October 18, 2008 at 9:11 am
There are games called "Time Slip," "Time Trax," and "Timecop." Other then that, here are some titles that had 'time' in it… Illusion of Gaia was known as Illusion of Time in Europe. Mario's Time Machine, TMNT4: Turtles in Time, Where in Time is Carmen Sandiego. There's a few more, but I ruled them out.
izzy says:
October 23, 2008 at 12:45 pm
Niiiiice list u got there. . Big fan of super mario rpg, megaman x3. What's the donkey kong competition???? Neva heard of it. (Anyways best game I've ever bought UMK3
Bill says:
October 25, 2008 at 12:46 am
FF Mystic Quest can't be worth too much, I've seen it over a dozen times and the game basically sucks (have had a copy for at least 15 years). Final Fantasy 3 is probably one of the greatest RPGs of all time. I guess final fantasy 2 didn't make the list? My all time fav SNES game would probably be Utopia.
Dweather52 says:
November 5, 2008 at 4:04 am
selling a lot of super nintendo games on Ebay. most of the games are complete including New Horizons and Uncharted Waters, Aerobiz 1 and Aerobiz supersonic
usa only auction
just type this in the search:
Super Nintendo 15 Game Lot! Most Complete!
Dweather52 says:
November 22, 2008 at 6:47 pm
Hi. Someone please help me out. I am trying to remember the name of a game for the super nintendo. I remember there were three mermaids and one gave you a sword the other gave you a shield and the other one i think gave a helmet. then you go fight (i think) underwater against some guys on seahorses or something. If you know the title of this game please reply or send me an email to eaglecfp@aol.com thanks
pb wilson says:
November 30, 2008 at 9:39 am
love the list , the most i've paid is 442 FOR paeodius , I DON'T THINK AUSTRALIA GOT IT.AM I RIGHT ?
Martin says:
November 30, 2008 at 8:33 pm
I can't believe how expensive he sell stuff here I mean for the same price of the nintendo package I bought the super nintendo two controler plus 10 games (Donkey kong country and meg man x3 where part of this package ) teaches people to shop around a bit I guess
knubbs says:
December 21, 2008 at 11:01 pm
i have ff3 dragon warrior4
knubbs says:
December 21, 2008 at 11:03 pm
i got a collection of 135 nes games and 2 toploaders and a mini super nes and about 30 snes nintendo is thee shit .
Angel says:
December 26, 2008 at 3:31 pm
i only found out not that long ago they had Harvest moon for the super nintendo and when i searched for it and saw pictures of it..makes me want it!!!!i already have alot of harvest moon games(not every single one though..)
Larissa says:
December 29, 2008 at 7:26 pm
You missed The Wizard of Oz. I'm not sure what it's worth, but I heard from someone who works at Slackers (It's a midwest retro gaming store) that it's pretty rare. I have it, and I think it's a lot of fun. I mean, it's not worth much, but it's just so hard to find anymore cuz not many people bought it when it was out.
D. Amaral says:
January 2, 2009 at 1:33 pm
You guys forgot to add Internation superstar soccer deluxe right on top of the list, to me it is one of the best among the other. And yeah, still playing my snes…ALways, don't touch it! Later
EGGZ says:
January 3, 2009 at 3:44 pm
Hea I finaly got the UK versian of Harvest Moon (factory sealed original box) would any one happen to have a value for it( i bought it from a little flea market so….)???
Will says:
January 5, 2009 at 7:28 pm
I actually won the store championship at my local blockbuster playing Donkey Kong Country for N64. I wish i had a copy of that cartridge.
Will says:
January 5, 2009 at 7:28 pm
I mean SNES not N64.
SuperJamario says:
January 5, 2009 at 10:26 pm
suprised there is no mention of Captain Novolin…
little known game, looks pretty pricey on eBay..
racketboy says:
January 5, 2009 at 10:27 pm
Haven't heard of it — any idea of price ranges?
SuperJamario says:
January 13, 2009 at 12:03 am
on ebay there were couple going for 70 – 80 bucks
Mary says:
January 15, 2009 at 12:58 pm
Hey!
I am wondering if anyone has any Super Nintendo games or any equipment they want to sell. I don't care if they are valuable, I let my kids play with my old one and I think they are getting bored with the few selection that I have for the game system.
I'll get back to you with the full list of games I have right now, but just to name a few.
I have Beavis & Butthead
Mario Allstars
Starfox
Spectra
Mario Land
Mortal Kombat 1,2,&3 (I think)
Street Fighter
I have a few more I'll have to go look at them to get the rest of the list.
But please do help me, I want to find them something different to play.
Thanks!
*mary*
Tom says:
January 17, 2009 at 2:22 am
Why didn't Dragonview make it to this list? I've only ever found one copy after renting it a thousand times from 1 video rental store and the copy I bought was from the same store when they went outta buisness. They should have given me the darn thing at that point.
Great game if you can pick it up. The 3d mapview was the only downfall… but you can look past that with everything else.
racketboy says:
January 21, 2009 at 8:52 pm
Dragonview doesn't even sell for $17 on eBay.
There were a bunch listed for that price, but nobody bought it….
dirge says:
February 5, 2009 at 7:44 am
wheres final fight guy?
Ross says:
February 6, 2009 at 2:56 am
Hey there can someone help just dug out sns got the power cord what other cord do i need and were does it go
racketboy says:
February 8, 2009 at 3:29 pm
Compared to many of the other Super Famicom games, FF Guy wasn't THAT expensive. It's a nice piece though.
sypher says:
February 12, 2009 at 1:20 am
@ racketboy
The actual rare version one of the above posters is talking about was an exclusive blockbuster only version. Not the standard SFC one.
It has english instructions, special box and ntsc cart i believe. Im still on the look out for one
Crazy how the SNES prices are at the moment, people paying tons for non rare games
racketboy says:
February 12, 2009 at 7:35 am
Thanks for the clarification, sypher
sypher says:
February 12, 2009 at 2:57 pm
No worries, great work by the way!
frank says:
February 15, 2009 at 2:10 pm
One of my favorite games had to be U.N. Squadron. I've seen it on Ebay , but im pretty sure i can find it at one of the flea markets around town. I think the snes had the best games of all time, due to the originality and the fact that they were simple and fun.
Mike Sparks says:
February 18, 2009 at 9:35 pm
I acquired a Super NES game cart entitled "Super 7 in 1″. It is probably a Famicon game. Can anyone tell me about this game and its value???
C. Marbut says:
February 23, 2009 at 12:27 am
I have an old Mario 3 game that allows you to keep getting bigger by pushing certain buttons. It has been years since I have played it, so I think that was how it happened. The subject came up lastnight with my son (who is almost as old as the game)he said there were only 200 that were released with that mistake. I am unable to find info on it online. Can anyone point me in the right direction, also interested in its value, still works fine.
Thank You
Videogamer says:
February 25, 2009 at 2:53 pm
I have downloaded a rom set containing over 9GB (that's gigabytes!) of SNES roms. While their's not that many different games for SNES to make such a large file, this rom set contains different versions (such as beta, 1.0, 1.1, 1.2, etc) of most games as well as different regions U, E, J (US NTSC, Europe PAL, and Japan NTSC-J) verssions of most games. It also contains level edits and graphics/text edits of some of the more popular games (such as Super Mario World). This adds up. So when I saw about the rare games list here I decided to check my own SNES roms on my emulator. And found I have a rom of the SUPER RARE and SUPER EXPENSIVE dodge ball game. As proof, here's the file name:
Kunio-kun no Dodge Ball – Zenin Shuugou! Tournament Special (J) [!].smc
leandrinm says:
February 26, 2009 at 5:12 pm
galera preciso de ajuda pra achar um jogo nao encontro e tbm nao sei o nome, e de um menino tipo um mago com uma varinha e soltar uns podersin, se alguem souber pleasi ajude xD
erk says:
March 16, 2009 at 10:19 pm
hey do u all realize that you can play these games again absolutely free with emulators. just google snes emulator
DarkTechie says:
March 17, 2009 at 12:14 am
Man…what I wouldn't give to find a working copy of Wild Guns for SNES…
killerrobot says:
March 25, 2009 at 5:39 pm
I recently restarted Earthbound. My friend bought it from Goodwill a few years ago for $3 and gave it to me when he was done with it. Great game, I don't think I'd sell it even for $50.
killerrobot says:
March 25, 2009 at 5:40 pm
$150 though, maybe we can talk.
kix says:
March 29, 2009 at 7:57 pm
what about international superstar soccer regular and deluxe version? Those are pretty rare aren't they?
racketboy says:
March 29, 2009 at 7:58 pm
Is that a PAL release? Unfortunately, I don't know a ton about PAL exclusives.
Marios says:
April 5, 2009 at 8:35 am
Hey
I traded in my SNES a long time ago and all the games but i have recently found the boxes for the games. i was just wondering if these empty boxes were worth anything?
racketboy says:
April 5, 2009 at 8:39 am
some people might pay a decent amount for them so they can make their games worth more. you might want to sell them as a group on ebay
SuMtOnE says:
April 11, 2009 at 12:07 pm
mang wish i still kept my old games and buy 2 copys of everythin and leave 1 mint n sealed hehe…
wish i was a lil older than so i can work n have the money for it grrr…
o wells… ill find them one by one
Qweetix says:
April 12, 2009 at 6:00 am
Here are some of the most valuable PAL SNES titles:
Secret Of Mana = 100$
Secret Of Evermore = 80$
Castlevania – Vampires Kiss = 250$
Starwing Super Weekend = 200$ (Starfox Competition Cartridge)
Harvest Moon – 200$
The Firemen – 100$
Sean says:
April 15, 2009 at 9:17 pm
I have a NES Metriod sill in the box, original everything. How much is it worth??? let me know. my email is stmin2008@gmail.com
Pete G says:
April 15, 2009 at 11:42 pm
Another good source for finding vintage games is craig's list, people are constantly unloading all kinds of video game stuff there. If you put in an add (free) that you buy video games, I promise you your e-mail will blow up, especially in the bigger cities. Love this site, keep it up.
trashfan says:
May 2, 2009 at 10:08 am
@Qweetix:
Are you talking about sealed copies? Harvest Moon is by no means worth so much!! You can get the PAL version for about $40 dollar CIB. Secret of Mana isn't worth that much either, as well as Secret of Evermore. I agree with Starwing Super Weekend Competition and Castlevania though..
Asbjoern says:
May 7, 2009 at 4:58 am
Trashfan: Yeah, I'm talking about boxed copies. Harvest Moon is very rare, 40$ is for the german PAL version. English or Australien PAL is really expensive… This is my opinion, but maybe you are right about Mana and Evermore.
DANIELA says:
May 8, 2009 at 4:56 am
I have a Super com comsole from Germany that has many games programed inside but can also use the cartridges. I have only see it once before at a nintendo museum site. I was wondering if anyone knows the value of this? Thank you, Daniela
extent says:
May 17, 2009 at 8:36 pm
if its hard to find, then collectors will pay almost anything! Just remember theres no such thing as how much something is worth, its simply how high will you keep bidding over someone else to get your item! In that sense you may make more money selling items individually than as a collection on occasion. If you sell ebay, remember to be as clear as possible in the description on how collectible or rare your item is. Boxed copies will always go for far higher prices than cart only. It seems most of the collectible games on the snes are either rpgs or carts produced only for competitions, which can often sell for around the £50 or $100 mark, sometimes alot more.
extent says:
May 17, 2009 at 8:42 pm
just a note, if you really want to make big money out of your collections, then you should really keep them for at least another 10 yrs you know items are far more collectible when they are completely impossible to find.. and i still see the odd super nintendo appear in the second hand section of the local newspaper! you may be able to sell items now for $100+, but how are you going to feel if in the yrs to come, you could have sold them then instead for 4x as much. Lol
roland says:
May 19, 2009 at 6:23 pm
they may be worth more in the future but if you need the money now it might make sense to get rid of them since the future value is most likely going to be inflation more than the rarity, and hardcore collectors will be more picky about what they want i guess it could pay off big, i hope so i have a few hundred nes games and 150 or so snes games plus many systems and extras i can't bear to part with them but maybe for the right price i would they are practicly priceless to me already.
forkix says:
May 26, 2009 at 9:11 am
Dang, I wish I lived in a big city for gaming reasons. I have to use ebay for my gaming needs as my local used video game store charges wayyyyy to much for games. They want like $40 for Contra III cart only. $27 for Super Mario World which is nuts.
AaronJamesPatterson says:
June 2, 2009 at 3:01 am
What about Terranigma? It was never released in the US and is the "sequel" to Illusion of Gaia. Great game, and very rare and coveted.
Action Games | Other | Log In said… said… says:
June 14, 2009 at 9:39 pm
the harvest moon game cart is rare I would give it a 4.5/5.
Skullboy says:
June 19, 2009 at 11:36 am
Terranigma is the best rpg ever released on the snes!
I have a mint copy of the game. Why this game never was released in the US is a mystery to me.
Other great rare snes games:
Ninja Warriors
Run Saber
Knights Of The Round
King Of Dragons
Rudy says:
July 21, 2009 at 8:44 pm
I know what you're saying about pawn shops. I found 2 copies of Chrono trigger on 2 separate occasions for 5 bucks a piece. I found a third for 5 bucks but I didn't buy it because I was second guessing its rarity. Little did I know…..
I've also found a 6 dollar copy of Suikoden II, a 2 dollar copy of Final Fantasy Chronicles and a 2 dollar copy of Final Fantasy 1 for the nes still in the box with everything.
It does pay to explore your town.
Rudy says:
July 21, 2009 at 8:56 pm
I also found a copy of Final Fantasy III for 5 bucks and my friend found a copy of Secret of Mana for 5 bucks at the same place about a week later. Since they were both doubles of ones that we already owned but I didn't own Secret of Mana, we just exchanged them with each other
Doomed Saint says:
July 29, 2009 at 11:07 pm
oh man I had Mario RPG and traded it to a friend for Illusion of Gaia which I think is a better game but now I'm kicking myself
John says:
August 1, 2009 at 1:28 pm
I just got a sealed copy of pieces in perfect condition for 5$ at a collectors garage sale!
Marco says:
August 6, 2009 at 3:41 pm
is this an awsome deal chrono trigger, super mario rpg, zelda link to the past, breath of fire (complete), final fantasy anthology, chrono cross, and mario paint (complete), Final Fantasy X, and The Bouncer for $100
Mettaur Man says:
August 8, 2009 at 1:04 pm
i found a Complete SNES at a thrift shop for $10 but dont have any games yet… still need to chek at the thrift shops
Mettaur Man says:
August 8, 2009 at 1:07 pm
trying to find the street fighter games first…im dying to play a game on my SNES!
Mettaur Man says:
August 8, 2009 at 1:07 pm
any tips?
MFGreth says:
August 8, 2009 at 10:49 pm
You're forgetting Umihara Kawase for the Super Famicom. That game goes from anywhere between 45$ to 175$. For real. It's because it was a highly acclaimed game with limited production and little sales until after it stopped being made. Not only do the Japanese look for this game with fervor, but so do American SNES lovers, as it really is one of the finest platformers on the system.
It's a shame how hard it is to get, because it's really that good.
Mettaur Man says:
August 13, 2009 at 6:02 pm
My Friend Found Street Fighter II Turbo For Me!
forkix says:
August 14, 2009 at 1:11 pm
I just purchased Final Fight Guy with the box on ebay. Anyone ever seen a manual for it for sale? Let me know.
forkix says:
August 14, 2009 at 1:16 pm
The game itself is somewhat rare..you can get it on ebay for around $35. The box and manual are ultra rare because it was only used as a rental game. (Final Fight Guy)
nubs says:
August 17, 2009 at 12:36 am
i went to tijuana and went to a flea market and bought EARTHBOUND for 50 pesos = about 4 .25 in dollars i was so happy
Samurai Sam says:
August 17, 2009 at 1:38 pm
I have the FE5 limited edition.
vikki nisser says:
August 21, 2009 at 10:35 pm
what is the game where 4 busty bimbons are dancing in lingerie then they go to showers/bath and then bed ?
Mettaur Man says:
August 22, 2009 at 1:30 pm
that game would be the gay gorilla game special; very rare
joseph says:
August 29, 2009 at 6:06 pm
out of curosity how much would a super nintendo in good condition sell for?
racketboy says:
August 29, 2009 at 6:10 pm
I'd say about $20 – $30. Check eBay's completed auctions for better ideas
Eax says:
August 30, 2009 at 2:35 pm
Anyone know if this is legitimate or not?
http://cgi.ebay.com/Chrono-Trigger-Sealed-Super-Nintendo-Squaresoft-SNES_W0QQitemZ250446776074QQcmdZViewItemQQptZVideo_Games_Games?hash=item3a4fca870a&_trksid=p3286.c0.m14
Regardless…if it is, you can expect the sealed premium for Chrono Trigger to remain high for at least the next couple months.
racketboy says:
August 30, 2009 at 2:36 pm
It's probably legit — its nice to have a lot of pics and he seems to know his stuff
joseph says:
August 30, 2009 at 5:32 pm
how much would a n64 in pretty good condition be worth? and the game majoras mask to it?
joseph says:
August 30, 2009 at 5:35 pm
i got pretty much all the sega satern games and the booklet to them just dont have the sega saturn itself how much would the games be worth?
racketboy says:
August 30, 2009 at 5:40 pm
Well, I might not be totally accurate (check eBay for better quotes), I'd say $20 for the N64 and like $7 for Zelda added.
Lots of games can be hard to estimate.
You're really better off picking out the valuable ones and selling them seperately.
joseph says:
August 30, 2009 at 5:47 pm
mr.bones,nascar 98,highway 2000,cyber speedway,bug! thats some of them.
racketboy says:
August 30, 2009 at 5:55 pm
Those are only worth a few bucks a piece — pretty common ones… sports games aren't worth much at all.
joseph says:
August 30, 2009 at 6:04 pm
tell me of some that are worth anything please.
racketboy says:
August 30, 2009 at 6:05 pm
http://www.racketboy.com/retro/sega/saturn/2008/05/the-rarest-and-most-valuable-sega-saturn-games.html
AB says:
September 8, 2009 at 2:13 pm
I have a brand new Super Nintendo Entertainment System that I wish to sell, but am not sure how much it is worth. Still in box with original paperwork and packaging. Anyone know how much it is worth?
SunshineMan says:
September 13, 2009 at 5:49 pm
i have one thing to say to all of u dont wanna pay that much for the games but wanna play them: EMULATORS!!!!!!! lolz oh ond for old school feel a USB controller so u dont have to use the keyboard
Evergreen says:
September 16, 2009 at 6:00 am
I collect rpgs and similar games like Secret of Evermore/Mana, terranigma, lufia/s, harvest moon, etc. Msg me on myspace if u have games like these 2 sell with box and manuals, additional posters etc Myspace url is http://www.myspace.com/evergreen_gamer
A says:
September 23, 2009 at 3:14 pm
Selling Starfox Competition (PAL):
http://cgi.ebay.co.uk/ws/eBayISAPI.dll?ViewItem&item=330362478150
forkix says:
October 6, 2009 at 8:58 am
Super Copa should be #1 for treasured releases.
Jimmy Soderberg says:
October 14, 2009 at 12:32 pm
can't believe you forgot Super 3D Noah's Ark!
http://en.wikipedia.org/wiki/Super_3D_Noah%27s_Ark
It's one of the most rare games for the SNES ever! (and the only unofficial SNES game ever)
I've got one factory sealed laying in my videogame shelf
Troglodyte (Cory) says:
October 14, 2009 at 10:11 pm
I just purchased a copy of Super 3D Noah's Ark for a little under $50.00… it's going for over $100 on eBay… I might sell the original if after having a reproduction cart made if that is possible.
Jason says:
October 23, 2009 at 5:41 pm
I'm not sure if I believe the prices here. My family just closed their long running video game exchange store, and I have almost every game on this list, except mario rpg. I do have three UNOPENED copies of chronno trigger that are sealed in some type of plastic bag with a grade-type sticker on them. They are worth thousands? If anyone wants them email me jaycfunnyman@aol.com I'd be happy to get anything close to even $500 for one! First come, first serve. Will take paypal.
Donney says:
October 26, 2009 at 8:00 am
I have bought Wild Guns PAL for $120
I also have a PAL Pocky and Rocky.
When I reset the game, i can play Super Mario World
Another reset, and Harvey's Humongous Adventure comes on the screen, reset again and I can play a Japanese Robot shooter. You come back to the Pocky and Rocky game when you reset again.
Does anybody knows anything about?
TK says:
November 13, 2009 at 2:47 am
Where's Terranigma? It wasn't released in the US, it's very popular, and it goes for over 100 $ boxed
Dark Sol says:
November 26, 2009 at 7:18 am
Where's FInal Fight Guy?
CHRISTIAN AWIRE says:
December 3, 2009 at 11:14 am
hi am chritian awire,i leave in nigeria. Ireally miss the days of SNES,please where can i get the console and the pads and some games like; STREET FIGHTER 2 TURBO,MORTAL KOMBAT 2$3,SUPER MARIO WORLD,SUPER MARIO CART,TOURNAMENT FIGHTER.Please am in need of the game becouse to me there's never a game better than SUPER NINTENDO.WHERE CAN I BUY IT.
CHRISTIAN AWIRE says:
December 3, 2009 at 11:19 am
HI, ITS ME AGAIN.STILL WAITING TO HEAR FROM ANYBODY,LIKE I SAID I LEAVE IN NIGERIA.PLEASE THERE I FORGET I NEED TO KNOW HOW MUCH IT IS.
nintendogs says:
December 11, 2009 at 6:49 am
You forgot to mention the Dragon Ball Z saga: 1,2,3 and hyper dimension… These are available in PAL and japanese version
ProChosen13 says:
December 23, 2009 at 9:08 pm
Man so funny. Back when I was like 12 (I'm 24 now), me and a friend were renting games. We decided we were gonna try the game that looked the stupidest from the box, just for shits n giggles.
Well our choice was Ogre Battle, we had never heard of it, assumed it would be retarded. Fell in LOVE with it, got our whole school obsessed with it. You literally had to rent it on Tuesday if you wanted it for the weekend.
Ogre Battle is such a freaking awesome game. I still play it once a year with friends and I'm 24 now.
Hawk95 says:
December 24, 2009 at 8:34 pm
Yall should get Seiken Densetsu 3. It is one of the COOLEST GAMES. (I think it's awesome).You can get it at http://www.coolrom.com/roms/snes/.You can get other games there too.
Pro21xx says:
December 26, 2009 at 4:45 am
I got a couple of those rare games up there like Mario RPG, Kirby Dream land 3 and Mega Man X3
PLEASE, IF ANYONE OUT THERE HAS AERO FIGHTERS IN MINT CONDITION! CONTACT ME at megaman21xx@hotmail.com I WELL TRADE OR MAYBE BUY IT OFF YOU
I have all the Shmup games released on the snes and its this ONE GAME thats stopping me from completing my snes shmup collection
Pro21xx says:
December 30, 2009 at 9:00 pm
Never mind I bought Aero Fighters for 80 of some guy, WOOT!
guys if you talk to the sellers in ebay very respectful on an item you want, they might give you one hell low of a disccount.
April says:
December 31, 2009 at 10:00 pm
I saw a Mario RPG on a website brand new and sealed for $400.
Eyedunno says:
January 3, 2010 at 1:23 am
Interesting. I loved the arcade version of Aero Fighters and as soon as I saw it in EGM, I wanted to buy it, but I never actually saw it in any stores at the time. Now I know why. I prefer my Super Famicoms (I have a regular one and a Jr.) to my SNESes anyway, so maybe someday, I'll hunt down a Japanese version, which will be (somewhat) cheaper. I can read Japanese, so I can take advantage of good prices on popular RPGs too (demand is lower in the U.S. while supply is higher in Japan). I got Chrono Trigger for around $15 with shipping (boxed with manual, even though I don't really care – the one I found that was just a loose cartridge got bid up to $12 before shipping, hah!) and both FFVI and Mother 2 (which actually sold really well in Japan) together for about $25 with shipping.
Some of the SFC games that cost me a relatively high amount were Umihara Kawase (close to 10,000 yen or $100-ish, IIRC, though I got it complete and with an official strategy guide), Clock Tower ($44 loose!), Benkei Gaiden: Suna no Shou (actually much cheaper on eBay right now than I paid for it in Japan… damn), and Super Mario Collection (=All-Stars).
PT-23 says:
January 9, 2010 at 6:06 pm
EarthBound was my favorite on the list, its expensive but worth it, I saw a copy go for over 1,000 dollars sealed just like with Chrono trigger. http://exophase.com/industry/sealed-earthbound-copy-fetches-1000-11306.htm if you want to see it. All these games are pricy but all of them are good.
Marco says:
January 17, 2010 at 12:54 pm
I recently found mario is missing for $10, how much is this game worth
Things says:
January 18, 2010 at 8:11 pm
I recently bought EVO with box for $80. I wonder if that's too high…
IGuitarV2 says:
January 19, 2010 at 4:40 pm
Oh my god dude I had the game Rendering Ranger R2. But I couldn't beat it so a couple of friends and me put kerosene and light it on fire. Only if I knew it was gonna be worth that much.
h2rtn says:
January 19, 2010 at 10:17 pm
the mere fact that all of you are saying you got these super "rare" games for 2-5 bucks for nes and snes means that street value these things are worth much, much less then you think. maybe at special auctions or collector conferences you can get more for them, but people know that goodwills and pawn shops sell these things dirt cheap, and normally that's where they get them from. if you want to know the real value of something, look it up on ebay and see what the final bid is.
EGGZ says:
January 20, 2010 at 10:58 pm
Been a long time since i was on here. Just wanted people to know that i will soon be puting up the famicom version of final fantasy 1&2 combo pack on ebay. stay tuned for details. (only for serious collectors, price will be 1000+)
Matthew Callis says:
January 25, 2010 at 9:05 am
A lot of games missing from that list…
Far East Of Eden – Tengai Makyou Zero – Shounen Jump no Shou
http://superfamicom.org/info/far-east-of-eden-tengai-makyou-zero-shounen-jump-no-shou/
Undake 30 Same Game Daisakusen
http://superfamicom.org/info/undake-30-same-game-daisakusen-mario-version/
john says:
February 11, 2010 at 8:06 pm
hello there this game:
Kunio-kun no Dodge Ball Zenin Shuugou Tournament
the first game on the list if it not gold cartridge is it still extremely rare
beks says:
February 12, 2010 at 2:29 am
I was just cleaning out all my junk at my parent's house, found a box full of super nintendo games and my system, all in good working order. I figured what the heck I never play them I'll throw them all on amazon.com, expecting maybe to get $5 a piece if I'm lucky, still a nice chunk of change if I sell them all….much to my surprise, I have sold four so far for $30, $30, %16 and $20. Not chump change whatsoever. Used and not in box! I'm not sure what's up with the demand but hey it's nice to get rid of some stuff and make some good money.
erik says:
February 13, 2010 at 10:30 am
Man How rare is Aero Fighters? I remember a friend of mine having that game back like in 1996. I played that game. It was pretty good. Never in the world would have I imagined it was such a rare game.
john says:
February 13, 2010 at 7:17 pm
hello me again is anyone interested
Kunio-kun no Dodge Ball Zenin Shuugou Tournament
the first game on the list if it not gold cartridge is it still extremely rare.
if so any offers
jesse says:
February 13, 2010 at 11:24 pm
hello i have all these games and where can i sell these games on ebay ? please email me
Brandon says:
February 17, 2010 at 3:01 pm
Jesse, I would love to buy some of the games off of you. I am building a collection of every game for the SNES and am only about 1/3 of the way there. email me at brandonleske@yahoo.com I look forward to hearing from you!
pack says:
February 22, 2010 at 11:29 pm
I have the whole nintendo system and 17 games still in the dust boxes and I have the original carring case that holds 16 games and two controllers and the gun. any one interested please let me know via e-mail.
thanks!
pack.crystal69@yahoo.com says:
February 22, 2010 at 11:31 pm
sorry i forgot to add e-mail
Ryan Banbery says:
February 28, 2010 at 1:19 am
Damn it!!!!! i had Chrono Trigger AND Megaman X3 AND X2!!! why the hell did my mom throw THem away soooo many years ago!!!!!!!!
rudy says:
March 1, 2010 at 1:18 pm
I know what you're saying about pawn shops. I found 2 copies of Chrono trigger on 2 separate occasions for 5 bucks a piece. I found a third for 5 bucks but I didn't buy it because I was second guessing its rarity. Little did I know…..
I've also found a 6 dollar copy of Suikoden II, a 2 dollar copy of Final Fantasy Chronicles and a 2 dollar copy of Final Fantasy 1 for the nes still in the box with everything.
It does pay to explore your town.
At 7/21/2009 8:56 PM, Rudy said…
I also found a copy of Final Fantasy III for 5 bucks and my friend found a copy of Secret of Mana for 5 bucks at the same place about a week later. Since they were both doubles of ones that we already owned but I didn't own Secret of Mana, we just exchanged them with each other
kierran says:
March 3, 2010 at 12:32 pm
just wondered how rare mario kart gold cartridge for snes is
Bycks says:
March 5, 2010 at 1:26 am
@ kierran
Was there ever released a GOLD Mario Kart for the SNES? I didn't think there were any GOLD Snes carts other than the few Japanese ones. Is the game from japan?
Samus says:
March 7, 2010 at 2:10 pm
SUPER METROID FTW!!!!…chrono trigger was alright too…
Brandon says:
March 25, 2010 at 4:41 pm
If anyone has a copy of Donkey Kong Competition or the Exertainment Mountain Bike Rally / Speed Racer and wants to get rid of it please let me know. I am dying to buy these two games! Thanks -Brandon
Brandon says:
March 25, 2010 at 4:52 pm
I guess I should have left my email for contact purposes haha if you have either of these email me at brandonleske@yahoo.com Thanks everyone!
Super Smash Bros. Fan says:
March 27, 2010 at 7:06 pm
Expect prices of Earthbound to go up soon and a sharp one at it.
There has been unconfirmed rumors that the game will not make an apperance on the Virtual Console, due to (unconfirmed) legal issues.
Let's just hope that doesn't happen. I've never been able to experience Earthbound legally and if the game doesn't come to the VC, it could become unaffordable for gamers like me.
Jimmy Dean says:
March 30, 2010 at 9:41 pm
@Matthew Callis
As most collectors know, japanese games are not worth a whole lot over here since they are not playable on our systems. Like the Famicom version of Stadium events. its worth about 20 bucks, where the NTSC version is worth 40k. big difference there! So those games you listed may be hard to find, and rare IN Niponland, but here in the USA! USA! USA! (have to say it 3 times or its un'merikan) its worth diddly.
tony says:
April 9, 2010 at 2:38 pm
Hey i have a factory sealed X band video game modem for snes. Original shrinkwrap with barcode sticker and a "get your first month free" sticker. Opened box goes for about 40 on ebay… MINT condition box, shrink wrap has a rip on one side on the seam, but you can tell it has never been opened. Anybody know what its worth or interested in buying it?? fabreezeo@hotmail.com going on ebay within a week if no one wants it.
robert says:
April 29, 2010 at 12:32 am
i have donkey kong country for super nintendo, how much is it REALLY worth now? and would anyone really pay as much as it is worth for it??
Chris says:
May 1, 2010 at 3:36 pm
Does anyone know of anyone selling or have for sale the snes game
super back to the future 2? I have been searching the internet for some time but cannot find a seller.
Cory says:
May 17, 2010 at 5:44 pm
If anyone is interested, i have the very rare exercise bike that was made for the game "mountain bike rally" the bike is called the lifecycle 3500. it is almost impossible to find and if anyone would lke to buy it, i have it listed on ebay right now. if anyone wants anymore info feel free to email me. my email address is bartmanca313@hotmail.com
Cory says:
May 17, 2010 at 5:46 pm
here is the link
Cory says:
May 17, 2010 at 5:47 pm
http://cgi.ebay.com/RARE-Exertainment-LifeCycle-Mountain-Bike-Rally-SNES-/350354825802?cmd=ViewItem&pt=LH_DefaultDomain_0&hash=item5192c6624a
Scott says:
May 18, 2010 at 9:01 am
Great list of games! Though as one other person said on here, where is the game Terranigma? That is a hard game to find! I saw it go on Amazon for $400! It did sell okay in Japan, but finding it now anywhere is extremely rare and will charge you up the wazoo!
Duncan says:
May 22, 2010 at 4:54 pm
I have been collecting snes,nes,and n64 games for last 5 years. l have about 250 snes, 150 nes and 100 n64 games. It's a fun hobby and it is an awesome feeling to stumble across a stack of old games at a yard sale or flea market priced a dollar each. That is happening less and less though as people inflate the prices though ebay and used game stores. I hate overpaying because you know the seller probably only paid a few bucks for a game and is now trying to flip it for a ridiculous sum.
Sean says:
May 27, 2010 at 8:59 pm
I seem to remember some really obscure JRPG (Japan-only release, I'm sure) that I read go for over $1k a couple of years ago. It was set in modern Tokyo (well…mid-90s) and was remarkable in how "adult" it was in content. Your character was just an average bloke trying to earn his/her way through life. You could be a yakuza enforcer, real estate agent, heck, even a Moss Burger employee (different chain store of course). I wish I could find this one.
Liam says:
May 28, 2010 at 7:47 pm
Pop and Twin Bee? Europe version… Think its a port a Japanese game… Wasn't popular here in the UK, can't remeber where my copy came from??? I think that has to be worth a few quid.
Peter says:
June 2, 2010 at 2:34 pm
I had supermario rpg but i gave it to my cousin. Damn WHY DID I DO THAT? im retarded!?!?!
Jonathan says:
June 3, 2010 at 1:31 pm
My cousin has Sunsetriders and when i was lookin for it on EBay, it it was rare. Although its rare its fun as skippin school. its also an arcade game. look it up on Wikipedia. youll see it has changed over the years. two examples are the the levels and the women. with the SNES i think it has more levels and the women used to look like hookers. (keep in mind that im like 11)
Anthony says:
June 4, 2010 at 9:39 am
Metal Warriors and Kirby's Dreamland 3 are both games that i am finding are going for quite a bit on eBay. They should be considered as additions to this list.
Amber says:
June 7, 2010 at 1:24 pm
some people dont no the diference between USED, SEALED and WITH A BOX…
sealed never been used is ultimately rare..
used , and games still with the box lose their value once been played or opened. 9/10 of their value. leaving…
i hope to collect every pal game there is. ' sealed " it
will worth thousands in ten to twenty years
does anyone have a console new?
sye says:
June 10, 2010 at 5:00 pm
Seriously? These posts are recent, that is sad. You guys know you can EMULATE the crap out of any of these games, and throw them on your psp.. or whatever, very easy. I have all the games listed and have been playing them again and again. I had a friend get them and dump them on a psp for me.
Liam says:
June 16, 2010 at 9:27 am
OF COURSE PEOPLE KNOW YOU CAN DOWNLOAD THEM FOR FREE! Oh, and you don't emulate a game, you emulate a console/system… The game is a rom played on an emulator.
But, you "roms" are worth…
NOTHING.
Where as a sealed copy of Zelda: A Link To The Past is probably worth… £1000? I saw Zelda Major's Mask (sealed) make £1200 only 2 weeks ago!
Yes, people know they can play them for free, and the chances are most of us do… BUT make no mistake, theres nothing like playing on the original hardware! Something else to be thought about is a "colector" pays £££££££ for fairland pottery and the like… so whats wrong with collecting computer games and systems? I have for afew years now!
My advice is; try it… you may like it!
Andrew says:
June 25, 2010 at 11:50 am
Hi I have a lot of snes games here don't know if any are of worth of any value but here they are as i have them:
1. Zelda A Link To The Past 2. Mortal Kombat 3 3. The Lion King 4. Mega Man X 5. Super Mario World 2 Yoshi's Island 6. Pac-Man 2 The New Adventure 7. Sim City 8. Demons Crest 9. College Football and 10.(THIS ONE IS MY MOST PRIZED AND CHERISHED OF ALL) FINAL FANTASY: MYSTIC QUEST. If anyone want to contact me and talk about them or want to buy or anything just email me or go to myspace and look me up my names the same as my email.
Pro21xx says:
July 2, 2010 at 11:49 pm
#
At 5/17/2010 5:47 PM, Cory said…
http://cgi.ebay.com/RARE-Exertainment-LifeCycle-Mountain-Bike-Rally-SNES-/350354825802?cmd=ViewItem&pt=LH_DefaultDomain_0&hash=item5192c6624a
OMG thats the MOST RAREST thing on the super nintendo
its the freakin BIKE!!, i never expected this to ever be on ebay, and for such a LOW PRICE!
MFGreth says:
July 6, 2010 at 1:24 am
I'm surprised Umihara Kawase for Super Famicom isn't listed, ever since it became popular for collectors and retro game lovers, the price for a loose copy now runs anywhere from 70-110$, and a complete copy with packaging goes from 100-250$
nomad says:
July 26, 2010 at 3:08 pm
I got FF3 for sale, loose copy, found it at a yard sale, no box but pretty good to great condition!!! EMAIL ME!!!
nomad says:
July 26, 2010 at 3:10 pm
nomad_brad18@yahoo.com
Nick S says:
July 30, 2010 at 10:08 pm
Terranigma should be on rare PAL list
xcracker90 says:
August 1, 2010 at 10:50 pm
I Have Donkey Kong Competition,
Stefan says:
August 3, 2010 at 6:05 pm
What about Secret of Mana 2 PAL? http://cgi.ebay.de/Secret-of-Mana-2-Seiken-Densetsu-3-Deutsch-PAL-SNES-/320569512376?cmd=ViewItem&pt=de_entertainment_games&hash=item4aa36e91b8#ht_1023wt_1137
ANONRBUSER says:
August 4, 2010 at 12:11 pm
I found Chrono Trigger sealed for $4,000 about a year back!
gaz says:
August 8, 2010 at 3:24 pm
hi what are the rarest SNES console boxes and how many where made ? i have street figther 2 & turbo, killer instinct, yoshis island (german vers),super mario,both super mario allstars,& the big action pack with scope all pal. and i have a NTSC mario world
is there any more people could tell me cheers
Kathryn says:
August 25, 2010 at 7:01 pm
I am selling Wild Guns for Super Nintendo NTSC on eBay right now in a lot with 14 other SNES games, I just listed it today.
Jay says:
August 29, 2010 at 5:33 pm
I would like to know what my Final Fantasy for the nitendo is worth its not in package and has been played but works perfect. Can any one help me? Please call or email me
563-357-1521 martinez2184@hotmail.com
wesley says:
September 11, 2010 at 11:02 pm
OMFG!!!!!!!! I have that super famicon dodge ball game!!!!!!!! FUCK I can't wait to sell it!!!!! Its still in the box too!!!
TIMMY says:
September 18, 2010 at 7:55 pm
9/18/10 someone sells a copy of rendering ranger r2 on ebay
http://cgi.ebay.com/ws/eBayISAPI.dll?ViewItem&Item=280563704386&Category=11988&_trkparms=algo%3DLVI%26its%3DI%26otn%3D2
adam barnes says:
September 23, 2010 at 9:30 am
I have some snes games for sale star fox and donkey kong country is anyone whats to make me an offer please do
But i would like to know how much Killer Instinct ( black cartridge) is worth
Thanks all
adam.barnes20@yahoo.co.uk
Tom Richard says:
October 7, 2010 at 7:01 am
I have a SNES game that is Japanese but I have no idea what game it is…. anyone have a idea? picture can be seen here
http://www.fixonlinepc.com/images/japan.jpg
Thx
Gt says:
October 27, 2010 at 10:50 am
Hello.. Does anyone know what is the name of a game of a kid with blue hair and a stick who turns his hair yellow when you have a strong health and turns into monkey if he gets hit?
mick says:
October 27, 2010 at 12:39 pm
anybody knw if the twisted tales of spike mcfang on snes is worth anythng pal version ??
andrea says:
November 3, 2010 at 3:08 pm
Is the Thrustmaster Race Pro for Nintendo 64 and Playstation worth anything? I have one and cannot find any information on it.
jeff says:
December 4, 2010 at 11:45 pm
I have a few games on the list. I have about 30 games.how much is nba jams,teenage mutant ninja turtles4,chaves boxing, spawn, and spiderman worth.
Frostbite-UK says:
December 6, 2010 at 6:24 pm
Have you seen that original 1990 poster that guy found in his attic?
I found it on eBay – search for "Dragons Lair Poster" it's an amazing find.
Pete says:
December 8, 2010 at 9:43 am
I saw Ninja Gaiden Trilogy in a Trade N'Play video game store and it was $89.99. I was considering purchasing it but I already own the first 3 on NES so I wasn't sure it was worth paying that much for supposed "enhanced" graphics, although the password feature would come in handy. I could trade some unwanted games in for store credit and bring the price down a bit (not much probably because these stores give you crap for used games). Anybody know if it's worth it as far as gameplay?
Damion says:
December 8, 2010 at 12:03 pm
I've come across a few copies of Super 7 in 1 and was wondering…how much are these going for now a days?
Brandon says:
December 11, 2010 at 7:54 pm
@Jeff Those games are worth like $20 for all of them.
@Pete The gameplay isnt worth $90. No way. Plus $90 is a ripoff for a cart only of that game anyway.
@Damion What the heck is Super 7 in 1? Cuz it is definitely not a Super Nintendo game.
clinton says:
December 13, 2010 at 8:43 am
who wants to buy my supernintendo with sftt.dkc.and many more games
Super Smash Bros. Fan says:
December 24, 2010 at 5:03 pm
Looking back at my post in this webpage in March, 2010, I can't believe that I was right about the prices increasing.
So my hypothesis was correct. Rumors of highly desired games like Earthbound being unavailable on the VC does increase prices.
Todd says:
December 30, 2010 at 8:38 pm
I remember a nintendo game where it was a baby going thru mazes and with each level the baby got bigger. Had to cut thru bushes and so on. I cant remember the name of it can anyone help?
EMMANUEL says:
January 4, 2011 at 7:13 pm
LONG LONG TIME… NOW IS 2011.
Lukas Rossaert says:
January 6, 2011 at 4:03 pm
Hye,
Would anybody know how much a sealed Secret of Evermore SNES game would be worth nowadays? Its a PAL-version with dutch manual.
Thanks
Sam Hicks says:
January 18, 2011 at 11:34 am
The PAL version of Xandra's Big Adventure, "Whirlo", should be on this list.
AdumUp says:
January 27, 2011 at 5:19 pm
Awwww….. Terranigma didn't make the list?
It's honestly one of the best games Ive ever played
Russ Campbell says:
February 6, 2011 at 4:28 am
Does anyone know what a sealed copy of SNES Final Fantasy III would be worth ???
I just picked it up today for free ……………….
Russ
FF Fan says:
February 6, 2011 at 9:05 pm
I played a game quite similar to Final Fantasy 3 and 5. Same weapons, air ship, boat and submarine. But you also got a few monster like creatures on your team and you could choose which helped you in battle and you fed them weapons to get them to grow or 'level' up. I thought it was lufia but I played it a few seconds and didnt think it was, if you can figure out what game it is please let me know at my email- brannan.christopher1991@gmail.com
FF Fan says:
February 6, 2011 at 9:06 pm
It was on the SNES
Anthony Loft says:
February 19, 2011 at 10:55 pm
So I just recently purchased a Super Metroid: special edition game for super nintendo. Does anybody know how rare this game is???? Or what it might be worth???? I would appreciate any feedback.
Thanks,
Tony
Brendan says:
February 26, 2011 at 10:54 pm
I'm about to sell off a part of my SNES collection here in the next couple weeks on eBay. The games are as follows:
Super Mario RPG
Super Metroid
Knights of The Round
Killer Instinct
Mortal Kombat
Zombies Ate My Neighbors
Final Fantasy: Mystic Quest
Final Fantasy II
Final Fantasy III
Megaman X
Megaman X2 (which I cannot make work for some reason)
Starfox
…a couple others I can't remember off hand.
I just wish I could get Megaman X2 to work. I cleaned it thoroughly, and by thoroughly I mean I took the cartridge apart and cleaned the contact pins VERY well, and even lightly polished them with a tiny pinch of steel wool so they shine like new pennies.
Didn't help though… you turn it on, it loads the copyright screen and the Capcom screen, plays the little Capcom "tune" and fades to black like it's going to load the title screen/main menu and it just stays black. I'm thinking one of the chips in it has failed.
I'm no expert though…
Scott says:
March 8, 2011 at 10:58 pm
Looking back at this list a few months later, I am surprised that there is no Final Fight Guy on this list. The cartridge by itself sells for $40-60 and with a box, it sells for $300 (once, the box sold for $250). It may be the most valuable Final Fight game on the system since it was just a Blockbuster exclusive.
The other game I would like to bring up is Hagane: The Final Conflict. This game gets no mention at all when it comes to rare SNES games. It is a rare game which many SNES owners have never heard of. But it was made by Hudson Soft and was the SNES's answer to the Genesis's Shinobi. On a pricing guide at videogamepricecharts it is currently listed for around $100 (as of 3/8/11). And finding it online is almost next to impossible (there are only two listings right now with one being for the slightly cheaper SF cart). I know because I have two copies and am looking to get rid of one but have trouble doing so. Update the list if you can.
Brendan says:
March 12, 2011 at 10:38 pm
I have a shot to buy a copy of Final Fight Guy (cartridge only) for $35 in pretty much perfect shape… is it worth it?
I posted this before, but for some reason it's not showing up at the moment.
recoil says:
March 17, 2011 at 2:40 am
Big bunch of SNES games I'm auctioning off in a week or so on eBay…
Earthbound
E.V.O. The Search For Eden
Mario RPG
Secret of Mana
Castlevania IV
Contra 3: The Alien Wars
Megaman X
Megaman X2
Megaman X3
Megaman Soccer
Final Fantasy II
Final Fantasy III
Teenage Mutant Ninja Turtles IV: Turtles in Time
Uncharted Waters
Uncharted Waters 2: New Horizons
The Ren and Stimpy Show: Fire Dogs
Desert Strike
Jungle Strike
Urban Strike
Knights of The Round
Super Metroid
Super Marioworld / Mario All-Stars Combo Cartridge
Super Marioworld 2: Yoshi's Island
Donkey Kong Country
Donkey Kong Country 2
Donkey Kong Country 3
Zelda: A Link To The Past
Super Bomberman 2
Zombies Ate My Neighbors
Battletoads / Double Dragon: The Ultimate Tea
Act Raizer
Mortal Kombat
Killer Instinct
Doom
Starfox
Tetris Attack
I've had my fun with them for a long time and never really play them anymore, so off they go. Maybe somebody else will actually use them.
recoil says:
March 17, 2011 at 2:43 am
uhh… yeah, that's "Ultimate TeaM" – yup.
jon says:
March 20, 2011 at 1:22 am
STARFOX i have that am i rong or does it really go for that
the King says:
March 23, 2011 at 2:49 pm
Wild Guns?
David says:
March 26, 2011 at 6:19 pm
Some of the ratings of the games seem questionable to me.
David says:
March 26, 2011 at 6:21 pm
I can see some of the greatest games are rated 1 or 2 star, how can be?
racketboy says:
March 26, 2011 at 6:29 pm
The ratings are rarity ratings, not game quality
RETRO-WONDER says:
April 3, 2011 at 10:53 pm
Interested in a SNES YOSHI'S ISLAND promo pack? I have one listed on Ebay Australia – Item # 320680124264. Check it. Ends Friday 8th April 2011.
AaronJamesPatterson says:
April 7, 2011 at 9:33 pm
No Hagane?
dave says:
April 10, 2011 at 6:42 pm
Great Nintendo Game & Watch FIRE for sale on ebay. These are MINT in box with original instructions and packaging.
SUPER RARE – Act Fast, ends soon.
Link to sale for FIRE
and Nintendo Game & Watch POPEYE –
Link to sale for POPEYE
agustin says:
April 17, 2011 at 11:49 pm
i have donkey kong country and the cartridge looks exactly like that rare one, but the thing is is that all my SNES cartridges look the same, so i'm confused
holly says:
April 19, 2011 at 8:05 pm
I have a bunch. but, the one that looks most rare is my Killer Instinct . worth much?
Rarest says:
April 27, 2011 at 6:42 am
Why didn't you include terranigma?
Fake says:
April 27, 2011 at 6:44 am
The third one looks so fake…!
B bop devil says:
May 2, 2011 at 1:44 am
Holy shit I got the dk competition cartridge yea I got it at block busters for 15$ wow
Dave says:
May 4, 2011 at 3:13 pm
I can't believe it some guy just sold me Zelda: Link to the Past, Final Fantasy 2, Final Fantasy 3 and Final Fantasy: Mystic Quest…. All complete in box for $100. Boxes look almost brand new. He must not have known what he had.
That has to be close to one of the best deals I've ever made.
Tom says:
May 6, 2011 at 3:47 pm
You're missing a big one. PAL version of Terraningma! This never saw a US release. While they're not truly sequels, they might as well be in this order. Soul Blazer, Illusion of Gaia, and then Terranigma. The Latter two saw US releases, and are popular as well. If you see it in NTSC version, its a replica. Either a fake, or the PAL version was put into an NTSC cartridge, and a new sticker made. Check ebay to see the ridiculous BIN prices!
TheSpoonyBard says:
May 7, 2011 at 3:40 pm
How about the NTSC release of Hagane? This is such an overlooked game rarity and value wise. Like FF:Guy it was a US BB video exclusive release. I recently acquired a copy of it. It's not the best game, but I barely ever see it on any rarity lists…Just saying.
Norman says:
June 22, 2011 at 10:51 am
I've had a S/NES when I was a little boy and used to play every day- that drove my parents crazy. When it bored me it got lost. Some years later I found an emulator for PC and played my old classics again – like Street Fighter, Kirby and Final Fantasy! But the simulator does not work any more with WIN7.
Anybody know a current version of a snes simulator?
brent says:
July 19, 2011 at 5:48 am
hi there how much is Mario RPG worth PAL english
Ultraboy94 says:
July 23, 2011 at 12:26 pm
Damn. I live in a PAL region and found Secret of Evermore fully boxed in a Game store about 6 months ago for £29.99 ($43.06 converted). I didn't have the money for it, which sucks.
Utonium says:
July 26, 2011 at 9:17 pm
Winter Gold – 1996, producer Funcom (FX Skiing)
European release only.
Nobody told a thing about this game yet.
Well, i' ve seen it for auction only two times on ebay.
The 1st one i missed it.
On the 2nd apperance, just four years later…, i managed to win the auction !
It took five years looking for this title and now i finally have it !
Does anyone have or had this cartridge ?
Btw, its not for sale.
Setsae says:
August 2, 2011 at 12:21 pm
I remember one of my one old bud lent me Dracula X: vampire kiss, during the snes era…
Must have sold his game system and his whole library a long while ago. I wonder if he got a fair prize of his print. I'm dead sure he didn't, because internet wasn't that accessible until late '90 ^^
Transactions were very subjective due to lacks of information. One could have found a very valuable title complete with box and instruction booklet on flea market for a misery because of that.
I'm laughing at what would be my friend's hypothetical reaction, knowing it's now worth 250$ :p
davina says:
August 12, 2011 at 8:07 am
i have all of the old game systems n old games from wen i was a lil girl from sega soccraties n the first nintendo
sergio says:
August 14, 2011 at 7:32 pm
i have ■Super Double Dragon ■double dragon 5 the shadow falls witch r under snes games of value close 2 the end